News of Lessons, Workshops and Exhibitions
(Barnoldswick) Painting with Malcolm Bullock - Mondays - 12.45 - 2.45 April 2018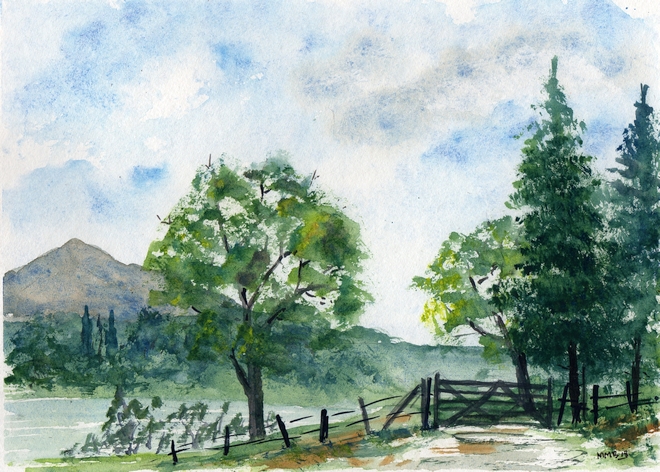 Painting at the Public Library, Fern Lea Avenue, Barnoldswick, BB18 5DW
30/04/2018
Bookings are now being taken for Aprils Monday afternoon Painting classes in Barnoldswick Library. Classes take place from 1-3pm in the upstairs meeting room.

Full programs are available at the library.

The cost is £10 per half day session and includes all materials needed to complete the painting - just turn up on the day, sit down and paint. All sessions are independent of one another. To book just contact Malcolm on 07776036674 or email using the contact form on this website. You can also follow what is going on at www.facebook.com/malcolm.painting.classes

9th April - Monday - 12.45 - 2.45
Turning Winter into Spring - Watercolour
A painting of a winter scene featuring Clogwyn Mawr (Large Cliff) & Llynnau Mymbyr (Misty Pools) at Capel Curig BUT in the style of a Spring scene.

16th April - Monday - 12.45 - 2.45
Waterfall in a Mountain Landscape - Water Soluble Graphite, Watercolour & Ink
A tonal painting in water soluble graphite. Watercolour wash over. Then we will give the waterfall some movement with ink.

23rd April - Monday - 12.45 - 2.45
Swallow Falls - Acrylic
Yet another waterfall but in a completely different setting & in acrylic. This will allow plenty of freedom to interpret the waterfall and can lean towards abstract.

30th April - Monday - 12.45 - 2.45
Flower Painting: Tulips - Small Artworks/Cards in Watercolour
Flowers are always popular and I have put this in here for those who want a change from landscapes.

The sessions feature a paint- along where the participants will start and finish the painting within the session. The techniques used to produce the painting will follow a step by step approach. This method of teaching allows the individual to quickly develop confidence in using the paints. Skills are also built up through the explanation of the various techniques used in painting the scene as well as the theory, such as composition and colour theory, that goes with it. The development of a personal style of painting is encouraged through individual assessment at various stages of the painting. No one paints exactly the same, we are all unique.

Booking is preferable as course numbers will be kept reasonably small to ensure individual attention. I do usually set an extra place or two so it is also possible to turn up on the day.

Booking can be taken at the information counter at the library or call, text (07776036674) or contact me via the "contact me" page of this website and I will pass the booking on to the library.